Polina Proutskova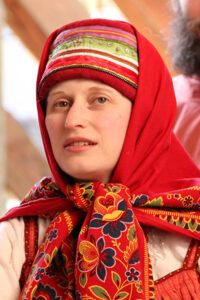 As an ethnomusicologist and singer, Polina Proutskova researches Russian and Ukrainian traditional polyphony and leads vocal ensembles in Berlin and London. As a computer scientist, she examines the singing voices in different cultures and their automated analysis. She leads an international research forum on singing and artificial intelligence and is a research engineer shaping the future of audiovisual media at the BBC.
Deniza Popova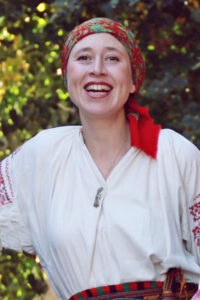 Deniza Popova sings what she explores! In Berlin she studied singing, musicology, ethnomusicology and Bulgarian studies and did her doctorate on "Authenticity, mediality and identity of authentic Bulgarian music". She practices the old music traditions during the service in the Bulgarian church, since 2004 with the traditional ensemble Polynushka and since 2013 with the avant-garde ensemble Extracts for creative music research. She is committed to social contexts and creates new musical events. In a combination of scientific and artistic work, she teaches at universities, colleges and in music education in Germany and Bulgaria.
Dina Labinska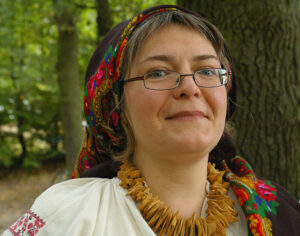 Born and raised near Kyiv. She studied theory and history of music at the Kyiv State Academy of Music, where folklore and ethnography were also taught. Dina knew a lot of Ukrainian folk songs from her father, but she heard authentic village singing for the first time in folklore expeditions during her studies.
The discovery of a new - mythical - world, coming to life in the songs and stories of village grandmothers, made a deep impression and influenced Dina's future fate. Along with the interest in the old Slavic archaic, which was a part of her life, she also came to realize her own belonging to this tradition and culture.
Dina wrote her thesis on the basis of field records made in the north-east of Ukraine. Evgeniy Efremov, the founder of the Tree, the first ensemble of authentic village folklore in Ukraine, was the scientific adviser. After studying, Dina taught music at school and worked at a radio station. Since 2000 lives in Germany. Member of the ensemble Polynushka since 2005.
Veronika Massold
She grew up in Ukraine. She studied Ukrainian folk instruments and traditional culture at the Lugansk School of Culture. From school to this day he is fond of author's song.
Organizer of cultural events of the Berlin art cafe Aviator. In Berlin since 1997, in Polynushka since 2008.
Darja Benert
Darja Benert is born in Siberia. Her fondness for Russian folklore developed in early childhood under the great influence of her grandmother, from whom she heard the first authentic songs. In 2006 she moved to Berlin with her family. Darja plays the piano and completed her musical education at the Carl-Philipp-Emanuel-Bach music high school. She then studied Slavic Studies and German Linguistics for a bachelor's degree as well as Cultures and Literatures of Central and Eastern Europe at the Humboldt University in Berlin. Darja is doing her doctorate in the DFG research training group "History of Literature and Knowledge of Small Forms" on modern small forms of Russian literature on the Internet. In her spare time she is engaged in traditional culture of folklore.
Anna Paszkiewicz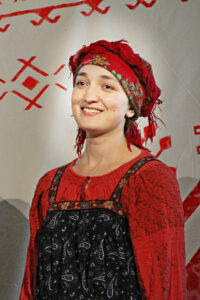 Ania was born in Poland. She grew up in the Giant Mountains, where she acted in the off-theater "Klinika Lalek" from 1991 to 1998.
In Berlin she studied linguistics at the Humboldt University. Here, too, she has participated in various theater projects; e.g. at the Theater am Ufer; took part. From 2003 to 2008 she worked in the "dokumentartheater-berlin", then in the "Theater Lieder und Wort". During this collaboration, her fascination with Russian folklore grew. Since 2011, Ania has belonged to Polynushka.
Elisabeth Rudi
Born and raised on a Russian island called Sakhalin in 1984, Elisabeth came into contact with Russian folklore at an early age. From the age of seven she attended the folklore department of the local music school and performed as a soloist in various concerts and tours with the folk song ensemble, including through Japan. Elisabeth is a specialist in singing, Russian folk dance and playing various folk musical instruments such as B. the button accordion. During her studies in cultural studies at the University of Hildesheim, she led a Russian folk music seminar. The Russian art of singing is part of her identity, although she has lived in Germany and in the local culture for a long time. Berlin is now her hometown. Elisabeth made her debut with the ensemble on April 26, 2013 in the Flüsterhalle in Bad Neustadt.
Ilja Pletner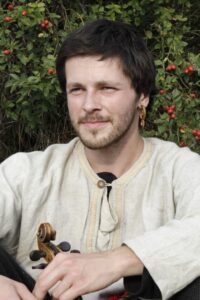 Ilja Pletner is born in Dnepropetrovsk (Ukraine) in 1984. He studied acting at the Ernst Busch Academy of Dramatic Arts in Berlin and violin at the Würzburg Academy of Music.
He played at the Deutsches Theater Berlin, the Eigenreich Theater Berlin and the Sophiensäle, among others. Ilja became known to a larger audience in film and television productions (November child)
by Christian Schwochow,
Dominik Graf (In the Face of Crime)
and Torsten C. Fischer (rogue play) known. For many years he has been part of the ensemble of the Atze Theater in Berlin
Since 2013 member of the ensemble Polynushka.
Stepan Grecov
Stepan Grecov was born and raised in Moldova.
He studied theology, Bulgarian folklore and Byzantine song tradition in Bulgaria.
Stepan has lived in Berlin since 2010 and has been a member of Polynushka since 2019.
Lidija Kirjackaja
Lidija Kirjackaja grew up in Lithuania. She began studying Russian folklore at the age of six and was a member of the Arinushka ensemble in Vilnius for 18 years.
Lidija took part in various folklore festivals and competitions, mainly in Russia, as well as in the folklore school "Tradition" (Lithuania). She helped organize the annual Pokrovskie Kolokola festival in Vilnius and participated in projects combining folklore and modernity.
Lidija has been living in Berlin since 2018 and has been a member of the Polynushka ensemble since 2019.